Filmmaker Tim Hall visited me in Amsterdam on a day I was talking to a group of community gardeners.  You can find part of this talk in episode 3.
Tim travelled around Belgium and the Netherlands, visiting alternative organic farms, food forests and other permaculture related projects on his bicycle.
The talk was hosted by Cityplot of Amsterdam, who run the community garden plot.  Also mentioned in episode 3 was River of Herbs.
Click on image to enlarge

© 2013 This image and the accompanying factsheet are copyright Arche Noah Verein. All rights reserved. Reproduced here with permission.
Artwork by: Valerio Fravallo
Click on image to enlarge
© 2013 This image and the accompanying factsheet are copyright Arche Noah Verein.  All rights reserved.  Reproduced here with permission.
Artwork by: Valerio Fravallo
For an updated signature list, please see the declaration home page.
Read the Vienna Declaration, currently signed by the following organizations, with more signatures expected to come:
AGROLINK Association (BUL)
Arche Noah Verein (A)
Bese Természetvédelmi Egyesület  | Bese Nature Conservation Society (HU)
Bifurcated Carrots (NL)
Campaign for Seed-Sovereignty (INT)  |   Kampagne für Saatgut-Souveränität
Dachverband Kulturpflanzen- und Nutztiervielfalt e.V. (INT)
Le Début des Haricots (B)
Eco Ruralis – in support of traditional and organic farming (RO)
EKOTREND Slovakia
Environmental Social Science Research Group (HU)
Fundacja Rolniczej Różnorodności Biologicznej AgriNatura (PL)
Föreningen Sesam (SV)
GAIA – Grupo de Acção e Intervenção Ambiental (PT)
Garden Organic (GB)
GLOBAL 2000 – Friends of the Earth Austria
InfOMG – GMO information centre in Romania (RO)
Longo mai (INT)
Maatiainen ry (SF)
Navdanya International (I)
Peliti (GR)
Plataforma Transgénicos Fora (Stop GMO Platform, PT)
Praktisk Økologi (DK)
Red Andaluza de Semillas "Cultivando Biodiversidad" (E)
Red de Semillas "Resembrando e Intercambiando" (E)
Rete Semi Rurali (I)
Réseau Semences Paysannes (F)
Seed Freedom Campaign (IND)
Slovensko bez GMO (SK)
Społeczny Instytut Ekologiczny (PL)
Stowarzyszenie dla dawnych odmian i ras (PL)
Utopia (SK)
Varuhi semen (SL)
Verein zur Erhaltung der Nutzpflanzenvielfalt e.V. (D)
ZMAG – Zelena mreza aktivistickih grupa (HR) | GNAG – Green network of activist groups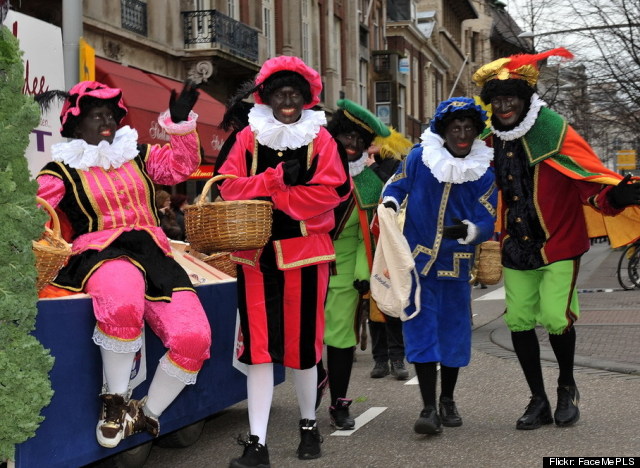 Zwarte Piets or Black Petes are a Christmas tradition in Holland.  It's a tradition that dates back to the time of slavery, when most of the Netherlands population was white.  The basic idea is Santa Claus, who is white, has black helpers who do his bidding and give candy and presents to children.  The Zwarte Piet characters are almost always white people with face paint, bright red lips, earrings — sometimes nose rings, and wigs with black curly hair.
There are many excuses why this is not racist.  For example Piet is black from climbing down a chimney or whatever, or it's just make believe and a long standing tradition.  Of course none of this explains why the red lips or short curly hair are necessary.  In previous years the Dutch have also shown a lot more tolerance towards traditions of other cultures, which made it a little easier to look the other way when it came to Zwarte Piet.  Now much of that tolerance isn't so present any more, and the tradition of Zwarte Piet reflects much more current, underlying and structural problems within Dutch society.
Nowadays, about 20% of the country as a whole, and more than 50% in some urban areas are non-Dutch decent.  This tradition is becoming increasingly unacceptable to those people, together with some ethnic Dutch and many people from all over the world.  As incredible as it seems, major cities like Amsterdam still sanction and license events with this character, and it's really time that stops.  It may be private parties continue in the years to come, but for a city to sanction public events, in public areas, is really a slap in the face to the non-Dutch people who live there.  I've posted before about some of the institutionally racist policies of the city of Amsterdam, which thankfully have been getting less common over time.  It's time for the city to take the next big step.
The sketch/improve group Boom Chicago, based in Amsterdam, have done a nice parody: