The Culinaire Werkplaats (Culinary Workshop) is an alternative restaurant in Amsterdam.  We found it sort of by accident and had dinner there last night.  We were very impressed.
They are a sort of food design studio, and incorporate a lot of ideas from fashion and architecture.  They are also very environmentally and socially minded, and like to create futuristic meals combining all these ideas.  As far as I know, all of their food is vegetarian.  Primarily they do business dinner commissions, but they also have a restaurant in Amsterdam, open only on Friday and Saturday, with the goal of trying out their creations on 'ordinary' people.  The business model of most restaurants in the Netherlands are severely constrained by labor costs, which are somewhat high here.  Since the business model of this place is different, it means they can offer food which is pretty much unavailable in the rest of the country.
Dinner starts with a pen and a piece of paper, and by the end of the evening you are expected to have provided a detailed written opinion of the meal.  The food is brought to the table and presented, but you are expected to clear the dirty dishes yourself.  You also have to fill your own water glass, and since the kitchen is an open part of the restaurant, both these things involve elbowing your way past the chefs in order to get to the sink.  This is an intentional part of their philosophy of combining the preparing and eating of the food.
The interior is very clean and functional, but also simple, as are the dishes and cutlery.
Our dinner was 4 main courses, plus a starter and dessert.  The food was very high quality, and very nicely prepared and presented.  Individual portions were small, but in total was plenty of food.  The meal was full of very interesting flavor combinations.  I think most readers of this blog would be very satisfied with their choice of ingredients and philosophies.  There's no set price, you simply pay what you want for the meal.  If you're planning costs ahead of time, according to the video above, think in terms of €19-100 per person plus drinks.  Reservations are strongly suggested.  Definitely worth a visit if you're in Amsterdam.
Now a brief pause in the programming for a cartoon short.
Dr. Ivan Buddenhagen just sent me the 4 bulbs of garlic and the 121 seeds you see in the picture above.  I'm really excited about this.  He's been working for years developing garlic varieties that produce real seed — without human intervention!
Collecting real seeds from garlic plants has always been theoretically possible, but a lot of work.  It's always been a lot more practical to just grow garlic from cloves, with the resulting plant being a genetic clone of it's parent.  In fact, this is how we've been growing garlic for centuries, meaning the plants have more or less 'forgotten', through evolution, how to produce seeds.  Dr. Buddenhagen has succeeded in bringing back this trait, meaning it's now possible and practical to breed new garlic varieties.  In the picture above, you see 4 of his new varieties.
In my case, here in western Europe, garlic rust is a serious problem.  Together with others, I've been looking for years for a resistant variety.  This sheds a whole new light on this search effort.  Now, hopefully, I can work with a population of garlic plants exchanging DNA and reproducing sexually.  I understand these plants need a long season to develop seeds, and of course the rust may still kill my plants before I have a chance to gather seed, but now there's hope…
How I ended up viewing this video is a long story.  You know how sometimes you think about one thing, that leads to another, and pretty soon you end up some place totally unexpected?
Anyway, bananas are sometimes an example held up as to why we need genetic engineering.  Banana breeding is very difficult, and has been pursued by experts for many years.  Habitats for wild bananas, and crucially the bat that was their primary pollinator, have mostly been destroyed by man.  We also don't have enough germplasm in store in genebanks.  We are reaching the end of life of the 'cavandish' banana we all know because of disease pressure.
The solution we are all told is that we have to accept GM bananas.
Of course a major part of the problem is we insist on intensively cultivating monocultures of bananas in chemical intensive environments, causing many of the the disease problems.
Here's a small group of people trying to find a new public domain solution, targeted towards small farmers.
One of the key aspects of the pending seed legislation are provisions for import and export of plant material.  Anyone who has worked with moving plant material across national borders will tell you this is a very political process.  For example, trying to get any plant material into the US during the Bush years was next to impossible, but under Obama it's not usually a problem.  Are risks of diseases or invasive species less now?  Of course not, it's just a different political climate.
The timing of the proposed EU seed law and the trade talks between the US and Europe is no coincidence.  Agriculture has been identified as one of the most important elements of the trade talks, and there are provisions in both proposals that go along together.  Basically what's being promoted is the idea of complying with the laws of the destination country.   This sounds very innocent, and almost logical.  For example, GMOs are highly regulated in Europe, so the US would have to comply with the law in Europe when exporting GMOs there.  Most people wouldn't have a lot of problems with this.   But there's a very sinister side to this!
The proposed new seed regulation would place a heavy administrative burden on those wishing to sell seeds, in any quantity.  This burden is carefully calculated to be too great for the small seed companies or farmers, but a trivial exercise for the larger companies.  Since all seeds sold in Europe would have this administrative burden, by law, countries wishing to export seeds or other agricultural products to Europe would have to prove they have an equivalent administrative system in place.  With this administrative system in place for exporting companies, it's likely this system would be applied to everyone, in order to create a 'level playing field'.  It's through this mechanism that Europe intends to use it's trade agreements to export it's seed laws, disrupting local seed markets and putting small farmers out of business, all over the world.
This idea is not new.  Europe already has very strict regulations for the import of agricultural products, effectively exporting the current seed law, together with destruction of small farming businesses and poverty, all around the world.  Europe currently accounts for 60% of the world's seed exports, effectively forcing farmers in other countries to use these seeds for products destined for European markets.  Is it a coincidence that so many of the world's hungry and undernourished people work in the food industry themselves?
Other Consequences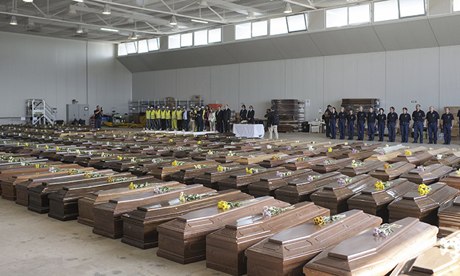 So what are the other consequences of exporting hunger and poverty around the world?
It's getting to be a seemly daily occurrence.   Asylum seekers from Africa arriving by boat on the shores of Europe.  Sometimes they make it, and sometimes they aren't so lucky.
Is there something the MEPs and other European politicians are missing as they tell us all in parliamentary debates that there's no problem with enacting legislation to promote the export of seeds, because this is important to Europe's economy?